*I received the products mentioned in this blog post for free in exchange for a review on my blog.  As always, all opinions are 100% honest and my own!
We brought baby Lincoln home on Saturday afternoon, May 17th, after spending 48 hours in the hospital.  It's amazing how, even after three kids, you have battling feelings of relief and panic when being issued your discharge papers from the hospital.  As much as I was looking forward to sleeping in my own bed, taking a shower, and getting back into our little groove…I also was keenly aware that by going home, I was also going to now be responsible for 3 lives, day-to-day activities and chores, and giving up sleep.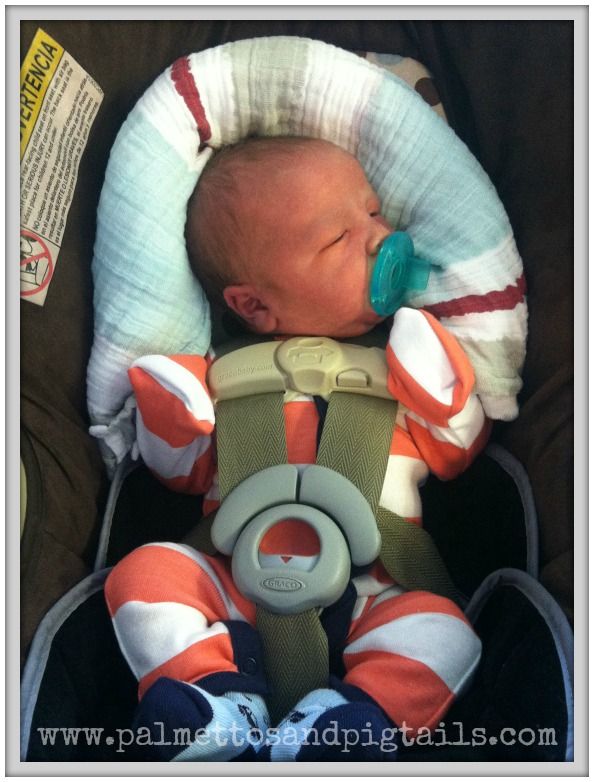 When our girls were born, we didn't slow down.  The new baby just got toted along for the ride.  We went out to eat, we visited friends, we went to church.  But even though our schedule wasn't really interrupted, I was constantly worrying about dirty hands touching the baby, the sun in the baby's eyes, strangers staring, etc.
So when Trisha from Cute As a Button Etsy Shop contacted me about doing a review for her tag toys that double as reminders to wash hands, I jumped at the chance.  I LOVED the idea of a little sign for the carseat carrier, and so incorporating it onto a hanging toy was perfect!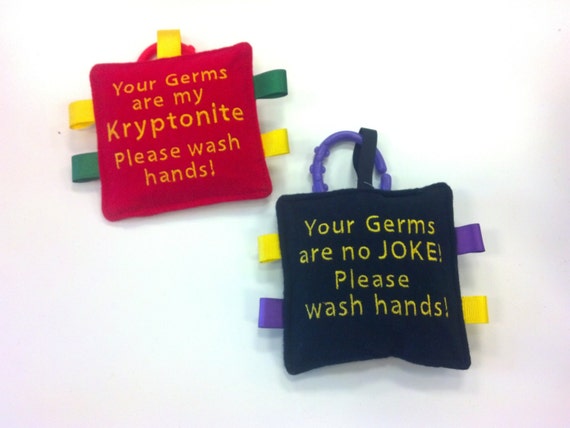 Cute as a Button has a ton of different color/fabric combinations, and several different ways to ask people to wash hands.  I chose the more straight-forward request, and then added on a little hand sanitizer onto the clip as well.  No excuses for germy hands!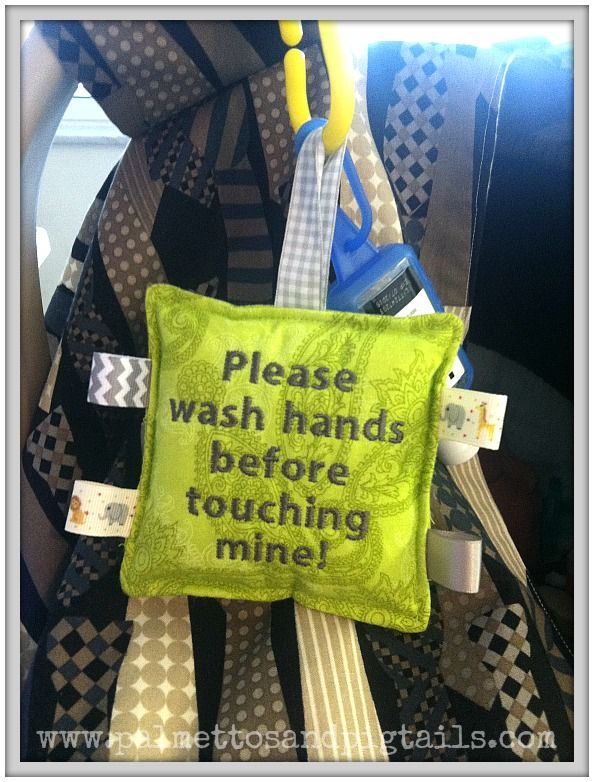 I have gotten SO many compliments on my tag toy….people are loving the idea, and I love that I don't have to be the bad guy anymore by having to awkwardly ask people to wash their hands.  Cute as a Button has lots of other things as well, check out their Etsy Shop to see all of the embroidered and monogrammed items: including seat belt covers, bloomers, safety items, etc.  You can also follow them on Facebook or on Pinterest.
And you might remember Heather from Gemini Red Creations, from my Big Baby Giveaway last month.  She made me a carseat carrier tent to die for!  I had always been skeptical about them for two reasons.
a) Lincoln would be at his tiniest/most vulnerable during the HOT summer months b) I make and use a carseat carrier cushion on my carseat handle.  I can't live without it.  So I was worried that the tent wouldn't fit around it, or that it would be awkward to use both items together.
But Heather's tent ended up being perfect for us!  It has the adorable tie print cotton on the outside, and a lightweight flannel liner on the inside.  It's heavy enough to protect the baby from sun, wind and loud noises, but doesn't trap the heat inside the carrier.  The straps that go around the carseat handle are sturdy, and located in a wider position…which accommodate my carrier cushions perfectly!  And I love that it's open in the middle, but the fabric is wide enough that it can overlap easily to hide the baby if needed.  And have you ever seen such a cute fabric print?  Just the right amount of subtle boy! =)
You can follow Gemini Red Creations on Facebook, Pinterest, or Shop her current products.  She's got a ton of crafty products, from jewelry to aprons to pillows!  Go check her shop out!
Needless to say, these two items have become staples for us, as we cart Little Man around in his carrier every day.  I love the way they look, and I'm confident that both the Tag Toy and the Carseat Tent are keeping him safe and germ free!