Hello, my faithful followers!  Sorry it's been awhile.  We have been cRaZy busy these past few weeks, unpacking the last of the boxes and getting ready for the Halloween season!  Our annual party is this coming Saturday, so we are working into the wee hours each night getting the house, food and costumes ready.  Don't worry, you'll get to see pictures!
In my spare time, I've learned how to make cake pops.  And, if I do say so myself, I'm quite pleased with my first attempt!  I decided to make some practice pops before attempting the real deal (Mummies and Jack-o-Lanterns) for the party.  So I made some little green monsters for Jayna's class party.  Here's a quick tutorial how to make them!
These monster pop ideas and how I learned to make them came from this awesome book (that I found at  Lowes, of all places!!).  The recipe is adapted from the book.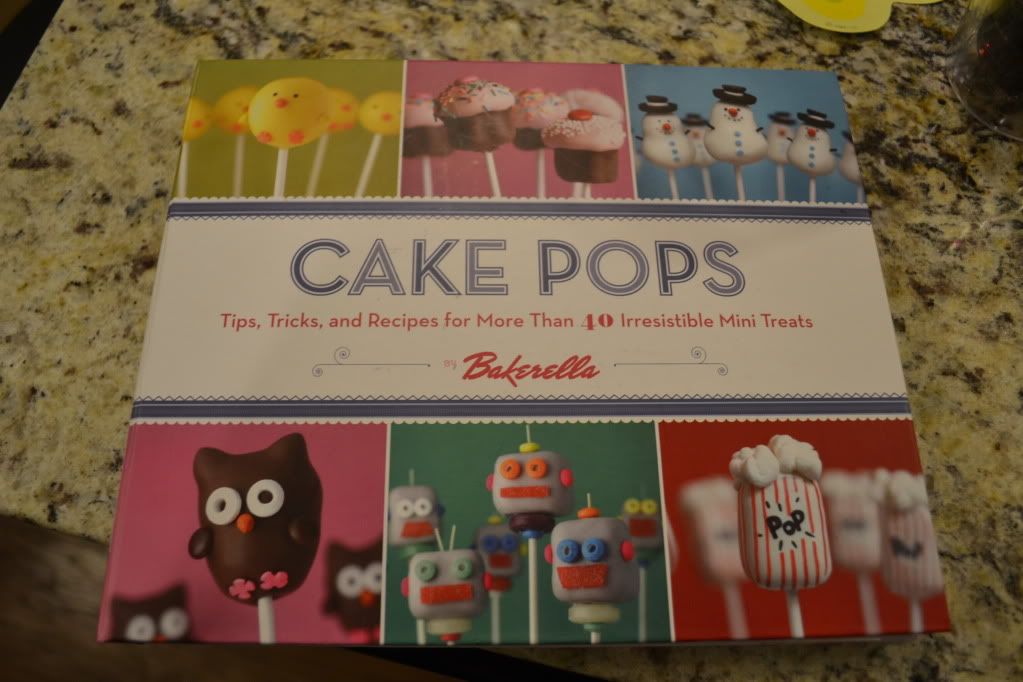 Ingredients:
1 box of cake mix 1 can of frosting 1 bag of candy melts (in whatever color you want your monster to be…I used green) 1 tube of white decorative icing 1 tube of black decorative icing 1 tube of decorative icing in the same color as your monster 1 tube of decorative icing in whatever color you want your eyes to be (I used orange) 1 bag of paper lollipop sticks 1 block of styrofoam 1 microwave safe bowl *I got my materials from Publix (icing) and Michaels (everything else)  
Recipe
1. Bake the cake according the box's directions.  Let it cool completely before doing any of the next steps.
2. Carefully slice off any brown crust off of the cake and place on a plate to munch on.
3. Place the rest of the cake (the yellow part if you used yellow cake mix) in a bowl and crumble it into fine crumbs.
4.  Mix about 1/2 to 3/4 of the jar of icing into the cake crumbs.  And using the back of a metal spoon, mush it together until its about the consistency of raw cookie dough.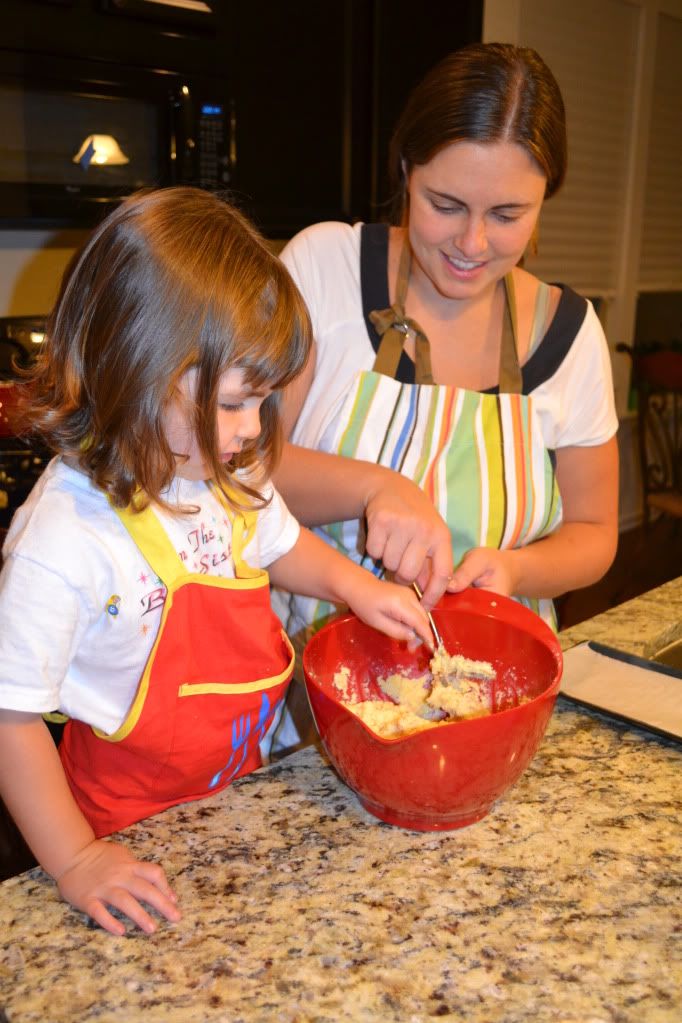 5. Using a melon baller (to make all of your pops an even size), scoop out little balls and then roll them with your hands to make them completely round.  I placed mine on a parchment papered plate that I knew was small enough to fit in my freezer.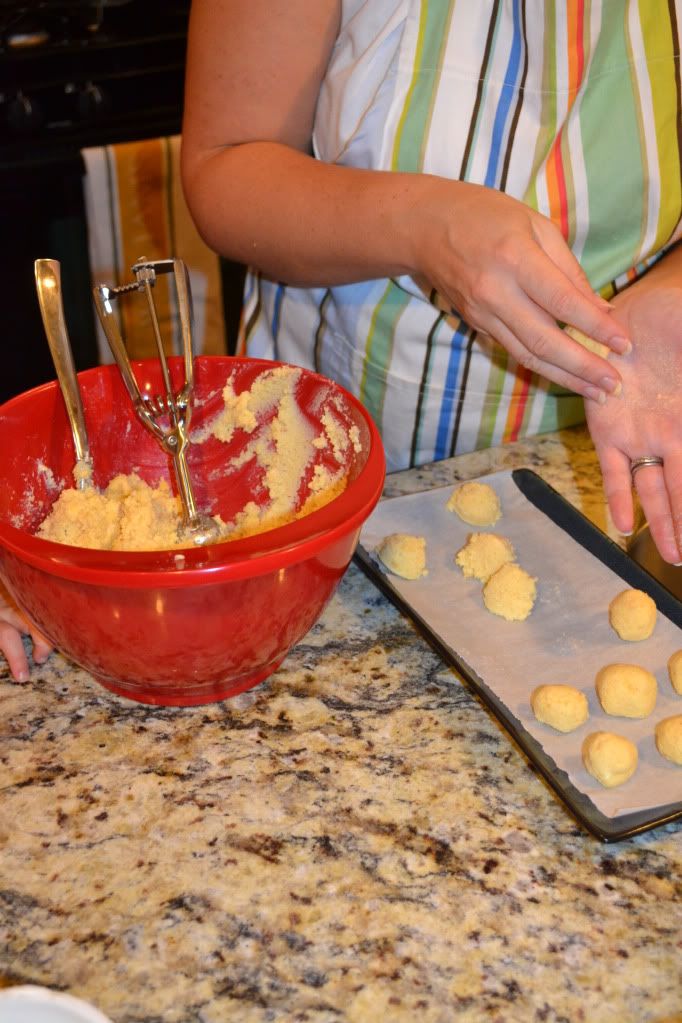 6. Let your 2 year-old sous chef lick the spoon (after you taste test it as well!)…remember everything is already cooked, so it is perfectly safe!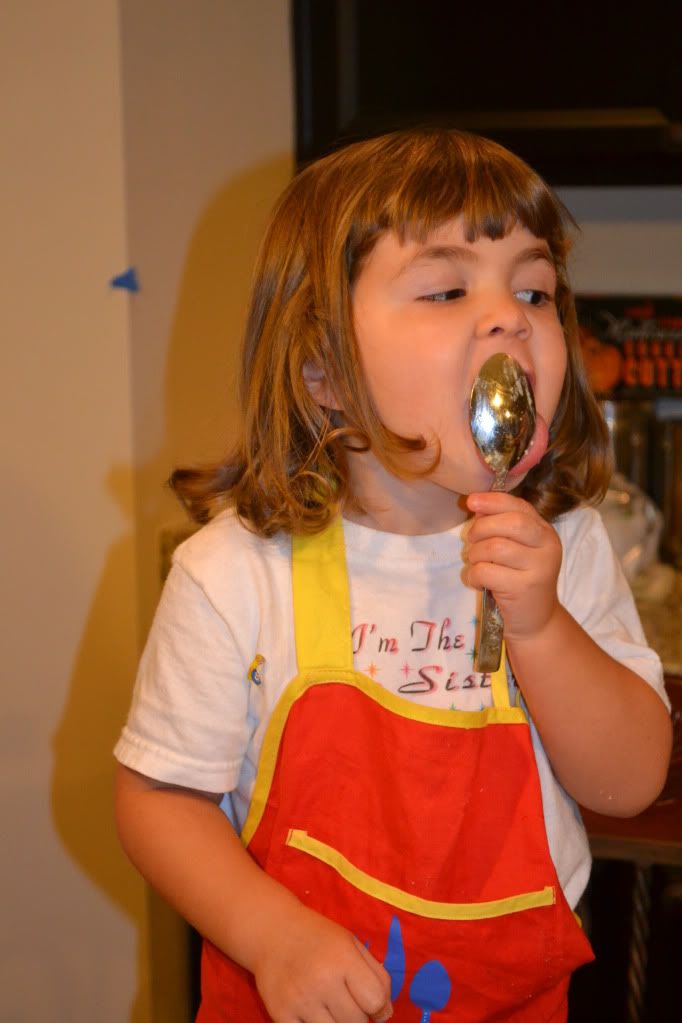 7. Place your cake balls in the refrigerator for a couple of hours.  Or, if you are a normal person and don't have room in your refrigerator, or a couple of hours to wait for these little things, stick 'em in the freezer for about 15 minutes.  They will not freeze completely.  If you don't have time to finish the recipe, you can also stick them in a ziplock bag and freeze them for later.  Or, until your hubby finds them…then there might only be 4 left.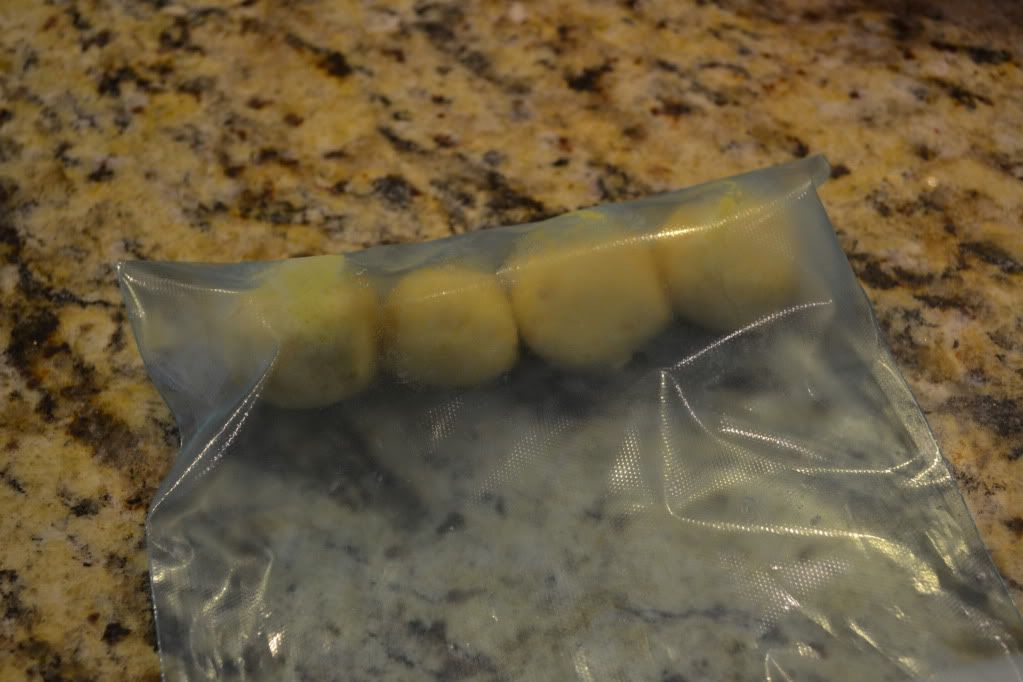 8. When you are ready to decorate, let the balls sit out on the counter for a couple of minutes to warm up a bit.  I found out the hard way that the balls expand a little as they warm up, so if you dip them in chocolate too soon, they will crack!  No worries for this particular recipe though, as you can just cover the cracks with icing.
9. Dump your chocolate melts into your microwave-safe bowl and microwave them in 30 second intervals until the chocolate is completely melted and drips off ouf your spoon.  This usually takes me three 30-second intervals.  Don't over heat it…your chocolate will clump!  If you need it thinner, add a little vegetable oil (just a splash) to the chocolate and stir it for a good minute or so.
10. Dip the end of your lollipop sticks into the chocolate and then stick it in the middle of each cake ball.  This will help keep the ball on your stick.  Put the stick with the ball on the end into your styrofoam and pop it into the fridge for about 5 minutes to let it harden.
11. Dip your cake balls into the chocolate one by one until they are completely covered in chocolate, then stick them back into the styrofoam and back into the fridge.  I let them stay in there for a good 20 minutes or so to get the coating nice and hard.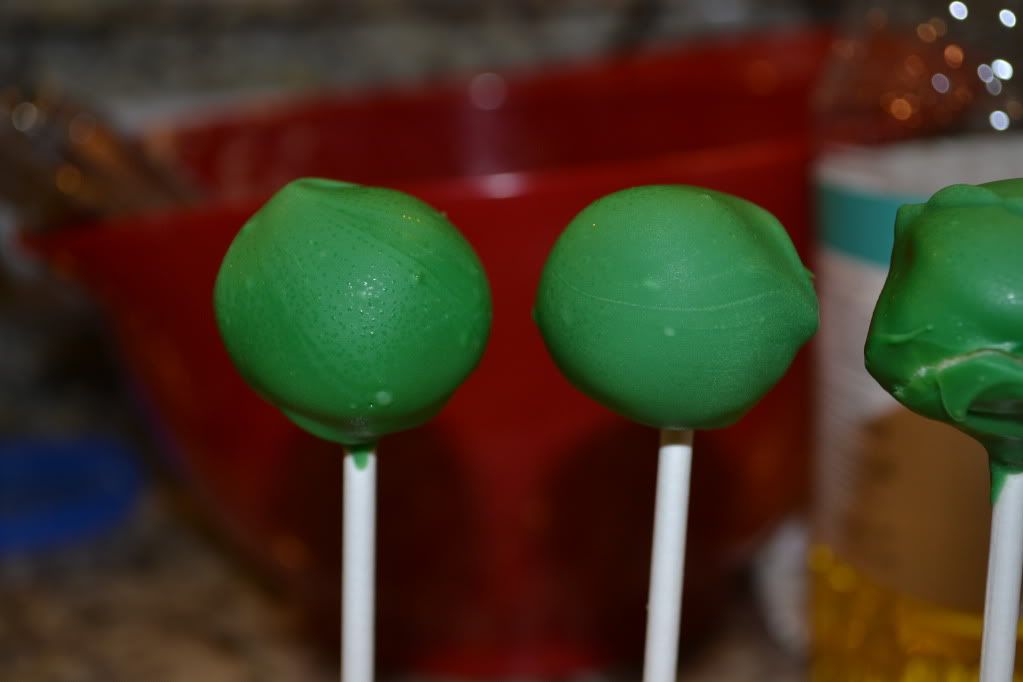 12.  Notice the crack on the right cake pop above.  No worries.  Take your tube of icing that is the same color as your cake pop.  Draw squiggles all around the ball and then kind of dab and them to make them look really messy.  Make sure you cover up any cracks, or your cake will get stale!
13. Stick them back in the foam and back in the fridge for about 5 minutes to let them harden a little bit.  Then, using your tube of white icing, draw a large circle and color it in white.  Or, draw two little dots.  Back in the fridge for 5 minutes.
14.  Draw a slightly smaller circle on top of the white circle with your eye-color tube of icing.  Then use the black to make a small dot (the pupil) in the center of the color.  Or, if you have two white dots, just use the black icing to put pupils in the middle of the white.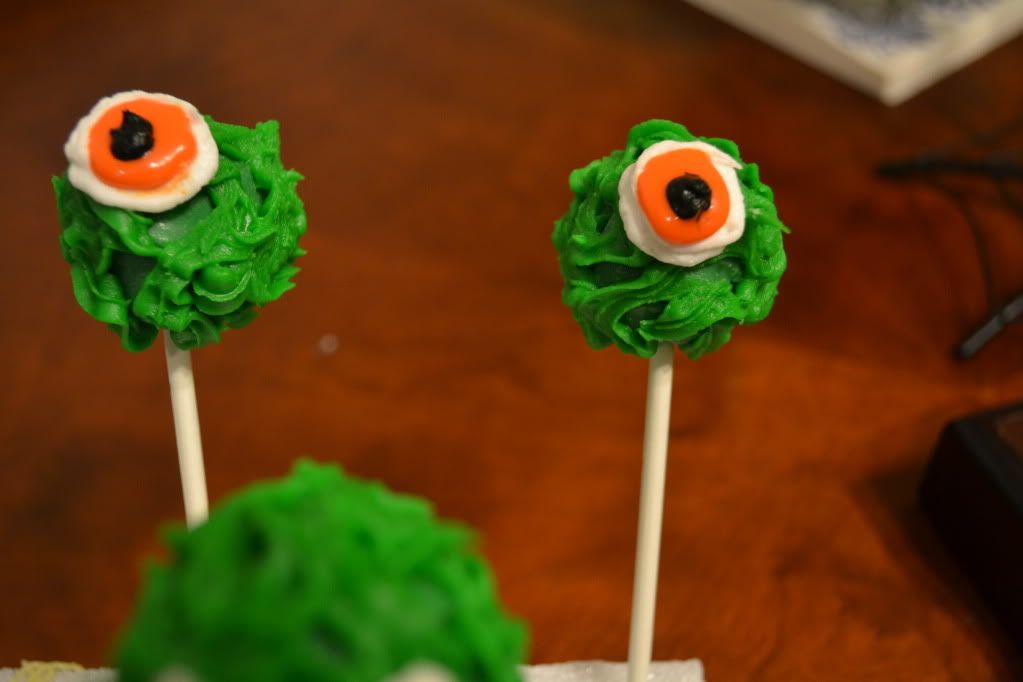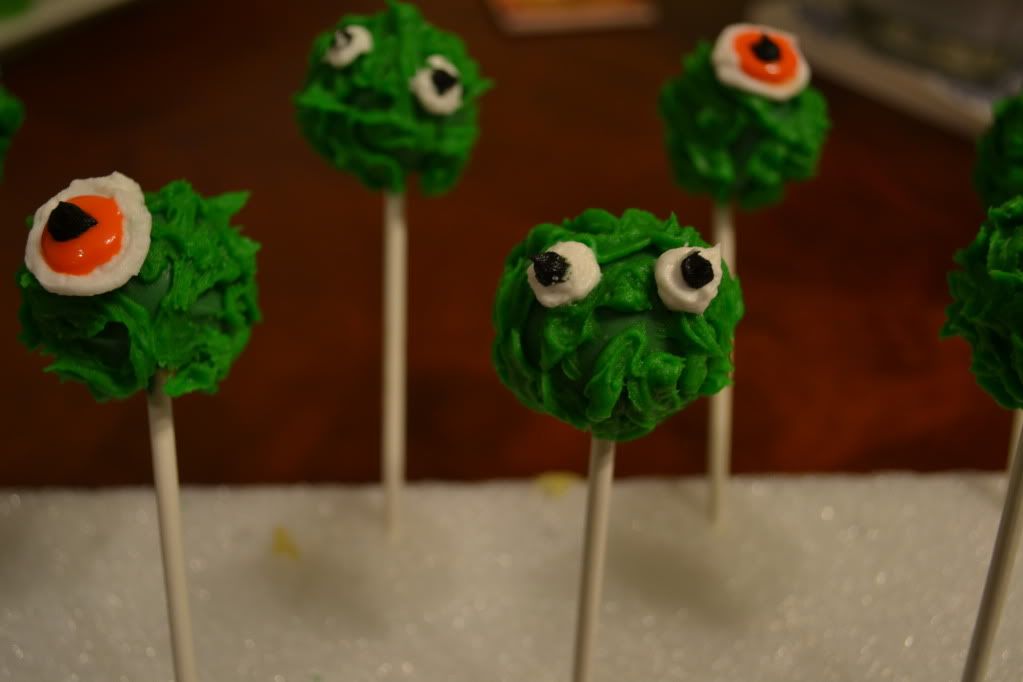 Is it just me, or do these look like Oscar the Grouch a little?!?
Tada!  You are done!  I put mine back in the fridge overnight to get the icing nice and hard, because the next morning I stuck them in little baggies to take to Jayna's school to hand out at her party.  Mmmmm….heaven in a bite!